Dachsi hiking trail - barrier-free circular trail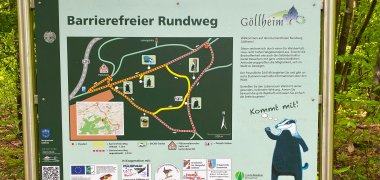 The Göllheim Forest with its existing network of hiking trails provides an excellent starting point for attractive hiking offers. In order to also do justice to the demographic change in our society, the Göllheim association municipality has created a barrier-free hiking experience for target groups with limited mobility.
The "Dachsi hiking trail" with near-natural forest experience objects and handicapped parking spaces is designed barrier-free and offers people with impairments the opportunity to perceive the forest as a place for recreation and experience. The approx. 2 km long hiking trail is suitable for all age groups with regard to inclination, trail width, surface, information possibilities.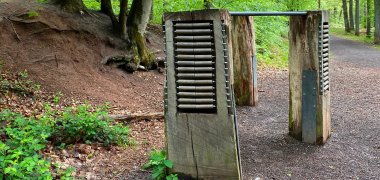 The near-natural forest experience objects set up along the trail offer hikers further opportunities to experience their senses. In addition, the Kriegsberghütte of the Pfälzerwald-Verein Göllheim, which is adjacent to the "Dachsi Hiking Trail," has been redesigned to be barrier-free and equipped with handicapped-accessible toilet facilities.

In the immediate vicinity of the hut, a playground was created that connects generations. The place is equipped with various devices (seesaw swing, climbing tower, mobilization and movement devices) and can be used by all age groups. With the barrier-free redesigned Kriegsberg hut, the generation-connecting playground and the Dachsi hiking trail, the overall package offers the possibility of bringing the forest closer as a recreational area for people with impairments as well.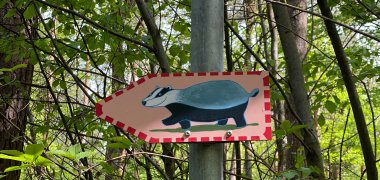 You can also experience the Dachsi hiking trail virtually: https://vr-easy.com/tour/blickpunktzukunft/221004-wald