Geopark Badger Mountain

Diving into the history of the earth is possible in the Dachsberg Geopark. The Dachsberg northwest of Göllheim was used as a quarry for decades. Here, Dyckerhoff AG quarried limestone and lime marl as raw materials for cement production. When the quarry was shut down in 2006, nature got the site back. A new, dry-warm habitat for plants and rare animals such as natterjack toads, fire dragonflies and reed warblers was created.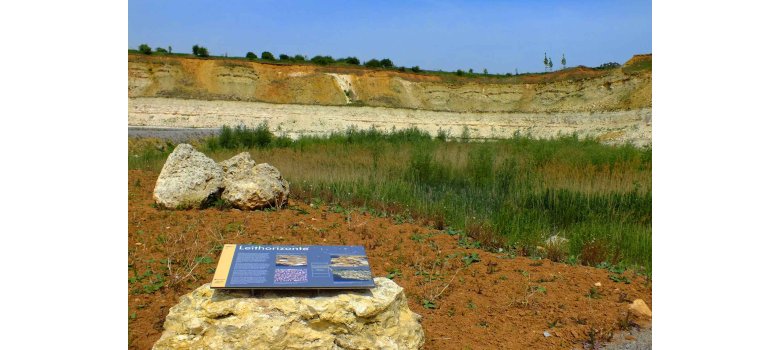 At the same time, the opportunity arose to create a geopark and to show the carbonate rocks of the Tertiary period, which are more than 20 million years old. In the Tertiary period, the climate was much warmer than today for a long time. In the area of the Mainz Basin and in the Upper Rhine Graben, there were repeated advances of the North and South Seas. Thus, in today's Donnersberg district, a shallow lagoon was formed with deposits on the coasts. Sea animals like corals, snails and mussels formed the basis of today's limestone layers.
The 1.7 km long circular trail informs at 17 stations about geology and earth history, flora and fauna as well as about the Dyckerhoff company and the cement plant in Göllheim. Seating areas invite visitors to take a detailed look at the window into the earth's history. The area is freely accessible, the start of the trail is at the parking lot at Elbisheimer Hof. There is also an exhibition on the "Göllheim Lagoon" in the Göllheim Museum Uhl'sches Haus, Hauptstr. 7.