Biedesheim

Mayor of the village: Holger Pradella, phone: 06355/3320
Biedesheim, situated parallel to the upper course of the Brübelbach along an important medieval trade and escort road, the so-called "Hohe Straße", indicates early settlement through finds from the Roman period.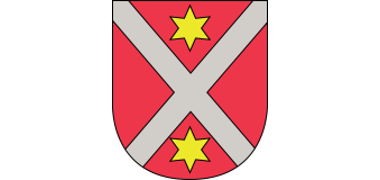 Biedesheim is a Franconian foundation, which is proven by the row graves and donation documents of the Lorch monastery from 782 (Bosinesheim) and 791 (Bousinesheim). The village and castle appear around the middle of the 13th century as the domain of Count Emicho von Leiningen. In 1423 the "Veste zu Buedesheim", probably a moated castle, was mentioned which was destroyed in 1471.
Worth seeing is the evangelic church in the Ottersheimer Straße. In 1498 the Romanesque church from the 10th century was renovated and consecrated to St. Andrew. The importance of the church in the Middle Ages is reflected in the rich frescoes that were found under three layers of plaster in 1964. These frescoes, painted between the early 13th century and the early 15th century, show, among others, St. Andrew and St. James with the shell. A 10th century baptismal font in the centre of the church shows that St Andrew's was once a baptistery and missionary church for the whole area.
Today Biedesheim has about 625 inhabitants and is predominantly agricultural. On fertile soils mainly sugar beets and cereals are cultivated. The village lies at 250-270 meters above sea level in an exposed hillside location so that one has a wide view from Biedesheim and during walks through the district. A cosy café in the centre of the village invites you to linger after a walk.
The community centre was inaugurated in 1998 and offers space for up to 300 guests, depending on the seating arrangements. Biedesheim residents and visitors alike celebrate their festivities in a cosy setting. Our biggest festival takes place every year on the 3rd weekend in September.