Wartturm near Albisheim

Northwest of Albisheim, high on the ridge of the Wingertsberg, stands the Wartturm. It was built in the Middle Ages to monitor two important trade and traffic routes: the Franconian road running through the Zellertal valley and the army road that led via Göllheim, Hungerberg and Osterberg towards the Rhine.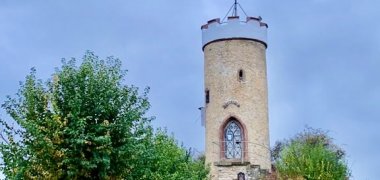 The Albisheim watchtower is a round tower, 10 metres high and 3 metres in diameter. It is built of quarry limestone and ends at the top with a white plastered crenellation. Behind it is a platform that provides a wide view. The Wartturm was first mentioned in a document in 1551. It was a fortified building - not only for Albisheim as a market town and fixed place. It was probably also in visual contact with other defence towers, as part of an observation and early warning system. Similar towers have been preserved on the Schillerhain near Kirchheimbolanden or on the Wartberg near Alzey. They could transmit signals to each other and warn of enemies. This was possible by means of smoke and fire signals, but also by means of optical marks such as coloured discs made of wickerwork or by raising a basket or kettle. In this way, the inhabitants of the villages could be alerted in time to bring their belongings to safety.
Over the centuries, the Albisheimer Wartturm was repeatedly exposed to weather and war damage. In the 19th century, the people of Albisheim took care of an extensive renovation. In 1862 the successful completion was celebrated. And with it the tradition of the Wartturmfest was founded. In 1977 lightning struck the tower again. The people of Albisheim again lent a helping hand. For many years the voluntary fire brigade of the municipality has taken over the sponsorship of the Wartturm. The tower can be reached all year round via the Nibelungen hiking trail from Albisheim (yellow square) and from the hikers' car park on the B47.